A stir-fry is one of the quickest and easiest meals to throw together when you just don't have time to cook. Aside from the rice, you can have a hot, delicious meal in about ten minutes from start to finish. Take that, Rachael Ray!
I didn't feel up to cooking last night, but I didn't want to settle for a PB&J for dinner, so I poked around in the fridge, grabbed a few handfuls of this and that, and made a wonderful spicy beef stir fry for two, with leftovers for breakfast burritos in the morning!
There is literally no recipe for this meal, only a method, so it is endlessly customizable, and I guarantee that no matter what's in your fridge right now, you can pull a great stir-fry out of it! All you need is a good sauce, some veggies, and some protein (and the protein is optional). You can serve it over rice, noodles, scrambled eggs, mashed potatoes, or even just on a plate by itself! The secret is in the
way
that you cook, not
what
you cook.
I started by marinating about 3/4 of a pound of beef sirloin strips in my homemade sauce. I cheated and got the strips pre-cut at the grocery store, but whatever protein you're using (chicken, shrimp, pork, tofu, and firm fish are all really good options), make sure to slice them into uniform, bite-sized pieces.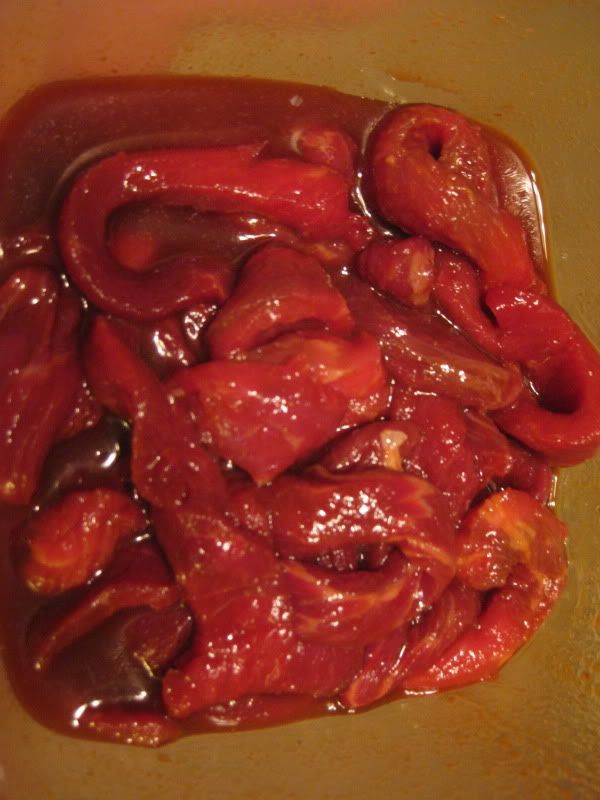 Beef strips in marinade... yum!
For the sauce, I combined about 1/4 cup soy sauce, 2-3 tbsp each rice wine vinegar and sriracha, and about a tsp each of ground ginger and honey. Since there was so much soy sauce, there's no need for any more salt in the dish. I mixed it up in a tupperware, tossed it with the beef strips, and let it sit on the countertop while I made the rice.
Speaking of rice, here's my tried-and-true, foolproof rice cooking method: 1 part water, 1 part homemade chicken stock (that's another post), and 1 part brown rice. Add everything to a pot, bring it to a boil, and as soon as it starts a heavy roll, put on a TIGHT fitting lid (if your lid does not fit snugly, or has holes in it, cover with a piece of tin foil first), and turn the heat to low (number 2 on my electric range). After 25 minutes (15 for white rice), turn the heat completely off. DO NOT take off the lid! Let the pot sit on the burner for another 15 minutes, then remove the lid and fluff with a fork. Perfect every time!
When I had turned the heat off for the rice, I started my stir-fry. I heated a dry wok on high while I chopped my veggies. This time, I was low on veg, so I just sliced up some yellow onion and had a pack of frozen stir-fry veggies on hand to bulk it up. Then I added 1 tbsp canola oil to the wok, gave it a stir, and added my beef (just the meat, please... the sauce comes later). I let the beef strips cook for about a minute, then I gave them a toss, cooked for another minute, and removed them from the wok. Over-stirring makes for gray meat, and that's a no-no.
Next I added a teeny bit more oil and my onions, tossing them constantly until they were brown but not yet soft. I threw in my frozen veggies (a blend of broccoli, mushrooms, water chestnut, carrots, and red bell pepper) and let them cook until they had thawed out and the wok was hot again.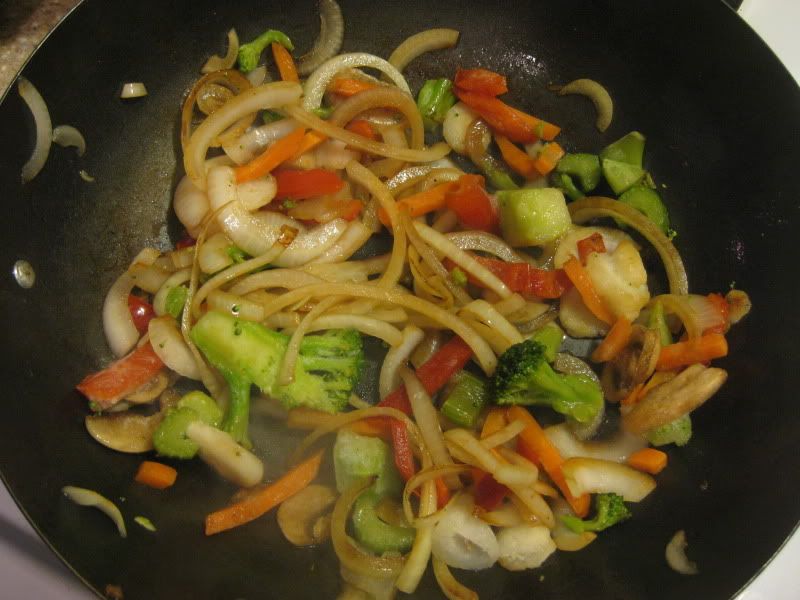 Colorful veggies!
Then I added in my beef strips once more, stirred a teaspoon of flour in with the marinade, and tossed in the sauce. I turned the heat down to low and let the sauce reduce until it was nice and thick. I happened to have some chopped peanuts in the fridge, so I tossed them in, too, for a little crunch and flavor.
By this time, my rice was done, and it was time to eat! I topped everything off with some chopped peanuts and red pepper flakes, and we were good to go.
For breakfast the next morning, I re-heated my stir-fry, scrambled some eggs, and rolled everything up in some flour tortillas for a quick and easy breakfast burrito, fusion-style.
Remember that you can make this with ANY kind of protein and ANY kind of crunchy veggies, so make it your way!
Printable Recipe