When is a cupcake not a cupcake? When it's a beefcake!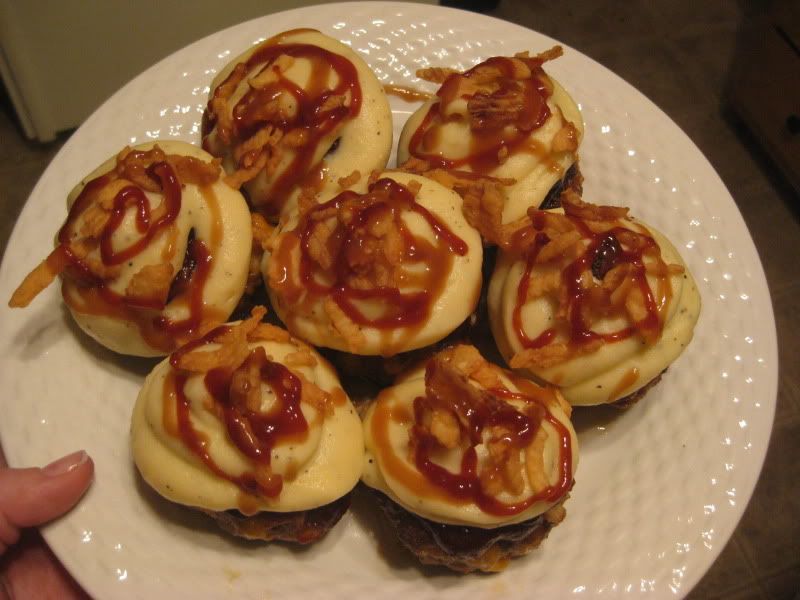 Okay, there is a little backstory to this one. Fun fact about Kelly: I read a lot of food blogs. A LOT. I read them to drool over fatty sugary things I would never allow myself to eat, I read them to discover new flavors, I read them for inspiration for my own blog, and of course, I read them to find good recipes. One of my favorite websites is
tastespotting.com
, where you simply scroll through gorgeous pictures of delicious food, and if you find something you like, clickety-click, there's the recipe! The only problem I have with tastespotting is that there is an abundance of sweets and baked goods that I have no interest in. I mean, sure, I like cake and cookies as much as the next guy, but I don't like them enough to actually make them. The hottest trend right now, it seems, is cupcakes, and while some of them are very unique and very pretty, I simply can't picture myself whipping up a batch of cupcakes that will ultimately sit in the back of my fridge until they mold. I was discussing this with my boyfriend (who, incidentally, asked for a meat cake for his birthday), and presto! The beefcake was invented.
I definitely can't claim the beefcake as my original idea. Sure, I thought of it on my own, but after doing some research, I found that I am by no means the first one to make them. To be true to myself, though, I didn't read any recipes... I only looked at pictures for my inspiration, to make sure the recipe was all my own.
The concept is simple: a meatloaf shaped like a cupcake and "frosted" with mashed potatoes. They are cute, and they make portioning very easy, not to mention cutting down the cooking time.
For my basic meatloaf, I mixed some ground beef with chopped onions, an egg, Dale's marinade (
because I can't make ground beef without it
), panko and Italian breadcrumbs, and my extra-special blend of meatloaf seasonings. I can't give you an exact recipe for my spice blend, because there really isn't one. I basically just reach into my spice cabinet and sprinkle a little of this and a little of that until I think it's right. For this meatloaf, I used minced onions, garlic powder, chile powder, salt and pepper, and cocoa-chile blend.
Don't worry. It may be ugly now, but the transformation is just beginning!
Once the meat was mixed well (by hand, of course), I rolled it into several small meatballs. I pressed the meatballs into the cups of a muffin pan, forming the bottom and the sides of the "cupcake", leaving a well in the middle for my secret ingredient: cheese! I shredded some cheddar cheese and pressed a little bit into each well, then topped each "cupcake" with another meatball, pressing along the sides to seal the cheese in the middle.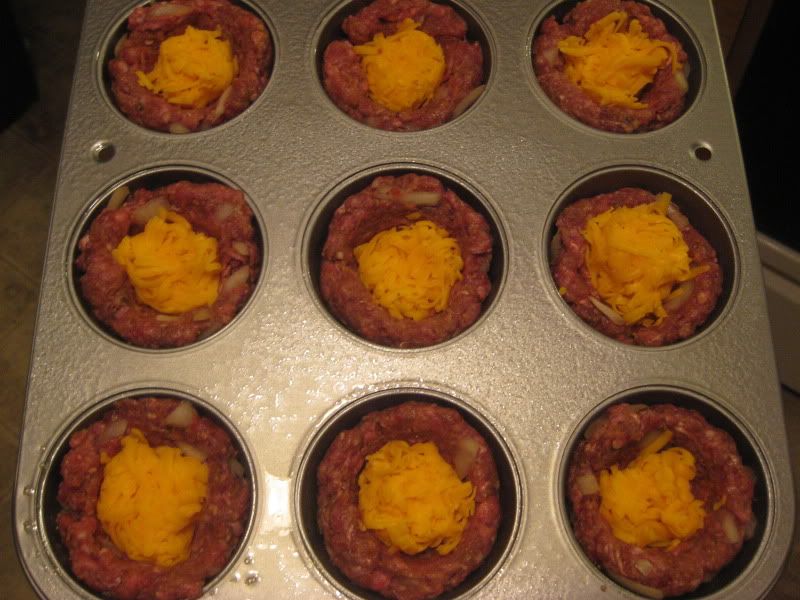 A word about forming your beefcakes: They will not rise the way cupcakes do in the oven, and in fact will shrink when cooked, so make sure to form a nice mound on top, and make them look the way fully cooked cupcakes do.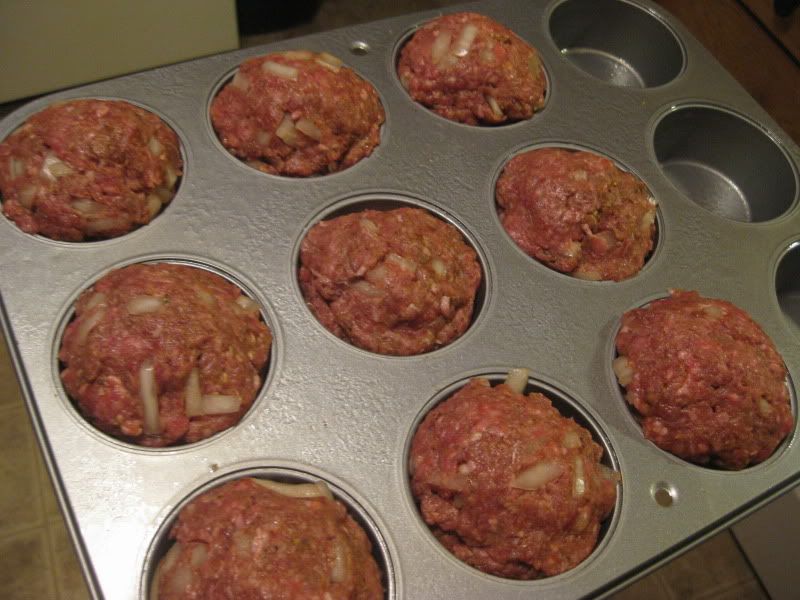 I popped the beefcakes in the oven at 350 degrees and started on my mashed potatoes. Time was of the essence, so I peeled and quartered about 5 potatoes and threw them into some salted water to boil. Cutting the potatoes up drastically reduces the time they need to cook, and they were fork-tender in about 15 minutes. I drained them and let them cool for just a minute while I prepared my beefcake glaze.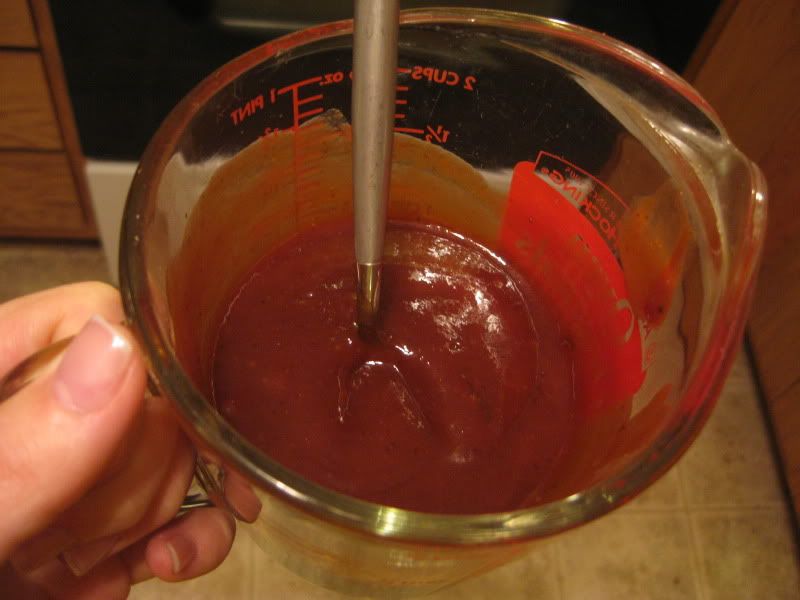 For the glaze, I mixed some ketchup with some more Dale's, some Sriracha, some honey barbecue sauce, and some brown sugar. The end result tasted like a thick, sweet and spicy barbecue sauce, and actually would have been delicious on some ribs, but that's another post... I took the beefcakes out of the oven and drained them (a LOT of fat pools up in those muffin cups!), then spooned on a generous portion of glaze and popped them back in the oven while I made my mashed potatoes.
Cheesy, fatty, oozy goodness, pre-glaze
I wanted the potatoes to be super creamy, so I put them in the food processor with some milk, butter, sour cream, salt, and pepper (Paula Deen would be proud) and blended until they were smooth, then I added some more shredded cheddar and blended again until everything was nice and creamy. I made a little brown gravy from a store-bought mix (shame!) and put the gravy and the remaining glaze in two separate squeeze bottles, for decorating my beefcakes.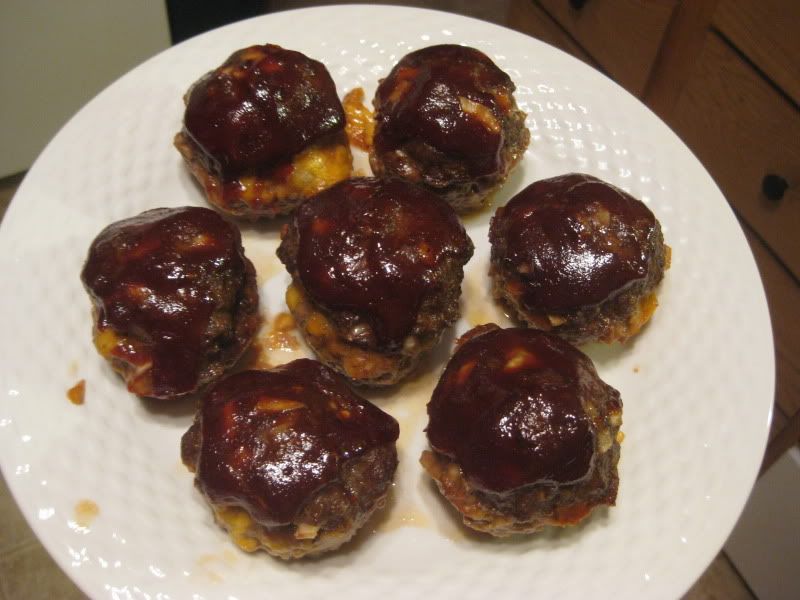 Waiting for them to cool is the hardest part
By this time, the beefcakes were done, so I took them out of the oven and let them cool for about ten minutes (though I probably should have waited a little longer). I scooped the mashed potatoes into a ziplock bag and snipped off one corner to make a piping bag, then "frosted" the beefcakes and topped with fried onions, glaze, and gravy.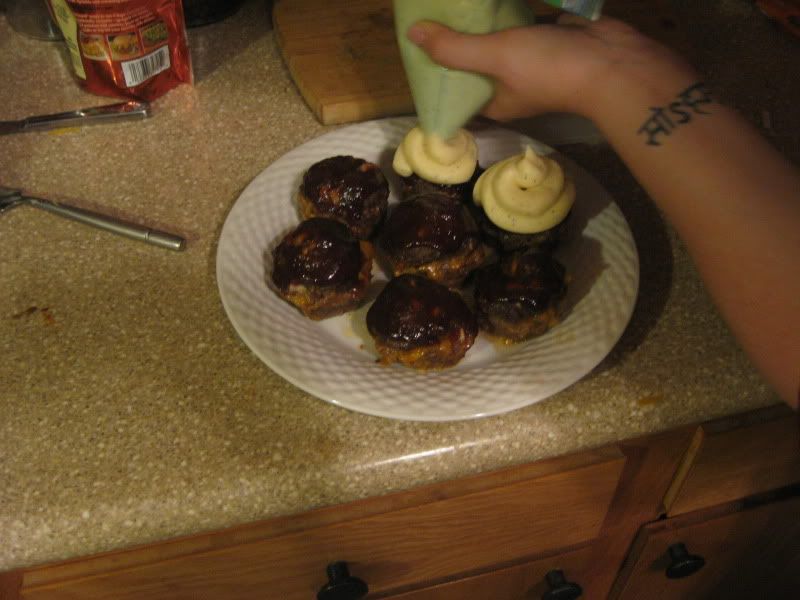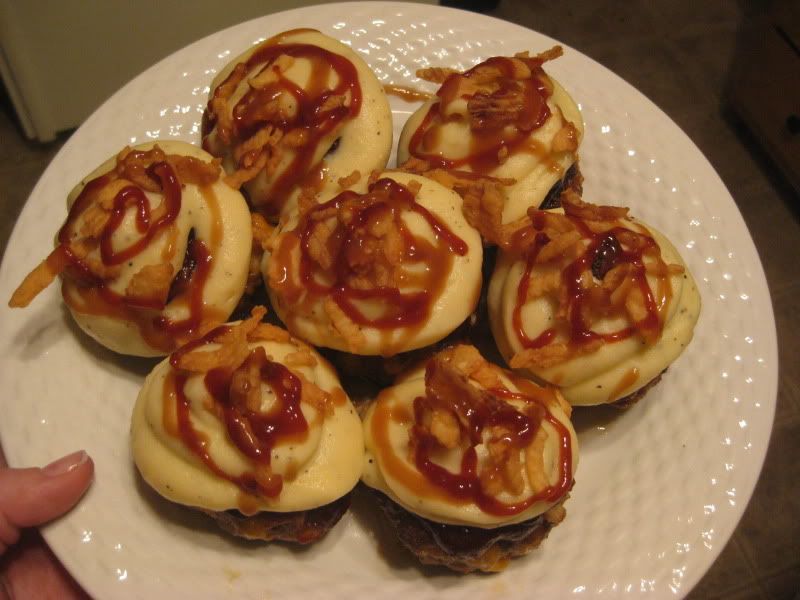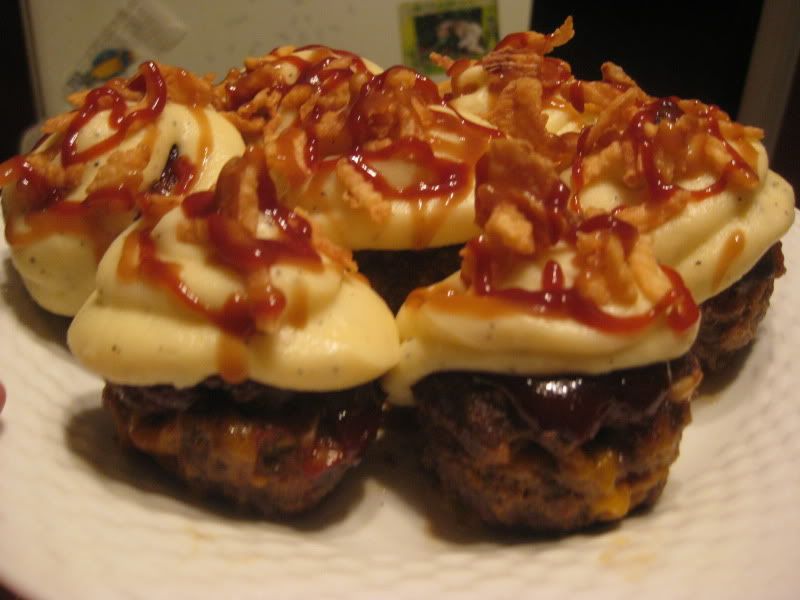 Okay, so they didn't look as pretty as I had hoped... but man, were they delicious! The meatloaf was moist and had a great flavor, the cheese was oozy and gooey, the potatoes were creamy and cheesy, and the onions provided a nice crispiness. Scott and I are definitely planning to make this again soon, and experiment a little with the presentation aspect so they look more like cupcakes. Try them at home, and let me know how they turn out!