What better way to wake up your Grump in the morning than with a piping hot onion bagel, made fresh in your own kitchen? I went a step further and actually cajoled my own Grump to make these bagels himself... really working the grumpiness right into every chewy, soft, and savory pore of this delicious breakfast food!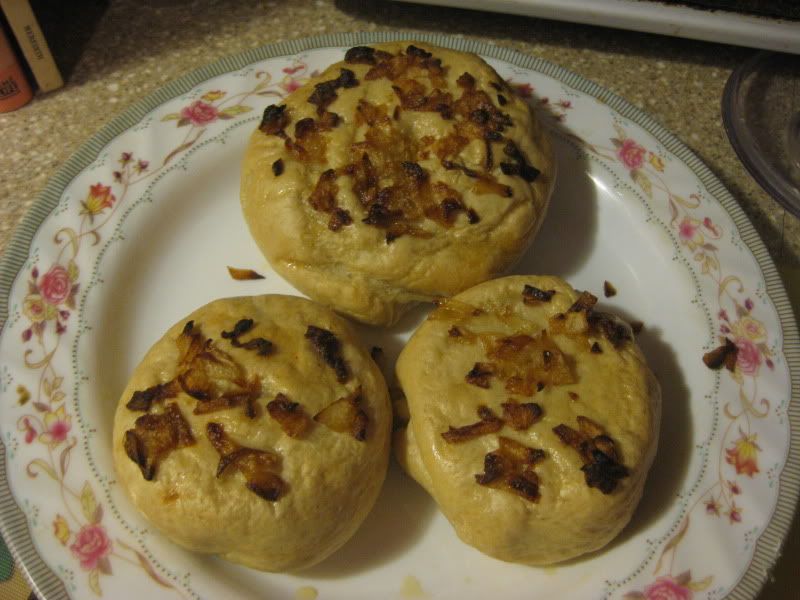 Bagels are much easier to make than you would think. They only call for the bare minimum of ingredients, most or all of which I'm sure you already have in your pantry, and though they do take some time to make, most of it is inactive work, like waiting for the dough to rise or the bagels to bake in the oven. And while you can definitely make these yourself, the fun is in having your Grump join you in the kitchen... four hands work better than two!
I'll post the entire recipe at the bottom of the page, because bread is one of those things you can't really mess around with too much. You gotta have exact measurements, which is not usually my style.
To begin, you'll mix together your dry ingredients (flour and yeast), then your wet ingredients (water, salt and sugar), and then pour the wet into the dry. Getting this thoroughly mixed takes either a stand mixer (which I did not feel like cleaning), or some serious elbow grease. My Grump has plenty of the latter, so I put him to work on the dough.
When the dough is properly mixed, it's time to knead. Throw a little flour down on your countertop and get to work. It takes about 8-10 minutes of kneading if you're doing it by hand, so put on some tunes, roll up your sleeves, and go on and get your hands dirty. If you're feeling extra grumpy, it's a good way to get some tension out!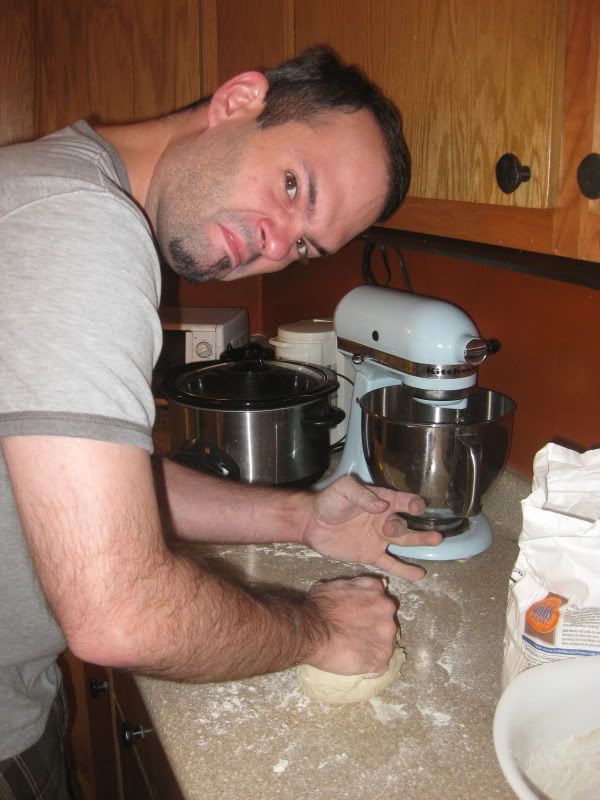 Now it's time for a rest... for you
and
the dough! Cover everything up and let it sit on the counter for about fifteen minutes. The dough will rise, but it won't actually double in size as if you were making bread. It'll just get nice and soft and puffy. Cut the dough into 12 equal pieces (though, for this recipe, which was written in the '70s, I generally made about 8 modern-sized bagels) and form into balls.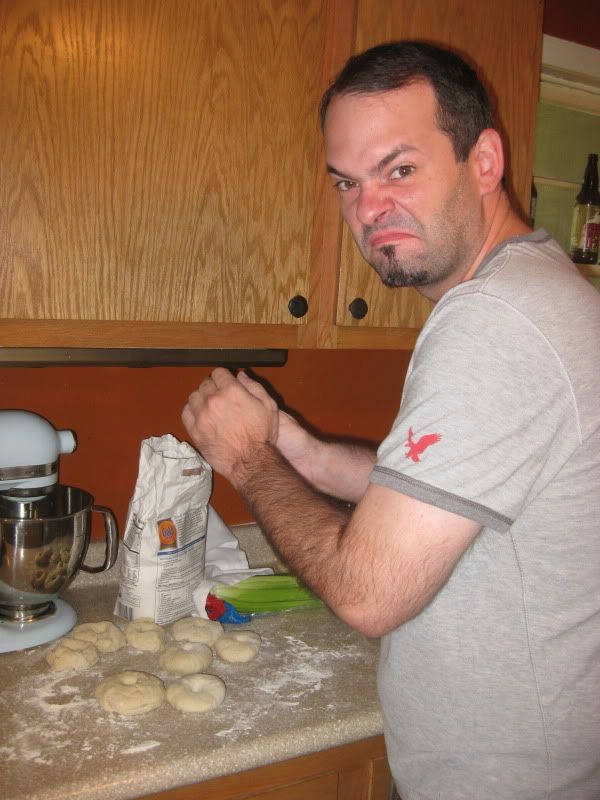 Now to make these rolls into bagels... with a floured finger, poke a hole through the center of the dough ball and wiggle it around, stretching and pulling the dough evenly until you have what actually looks like a bagel.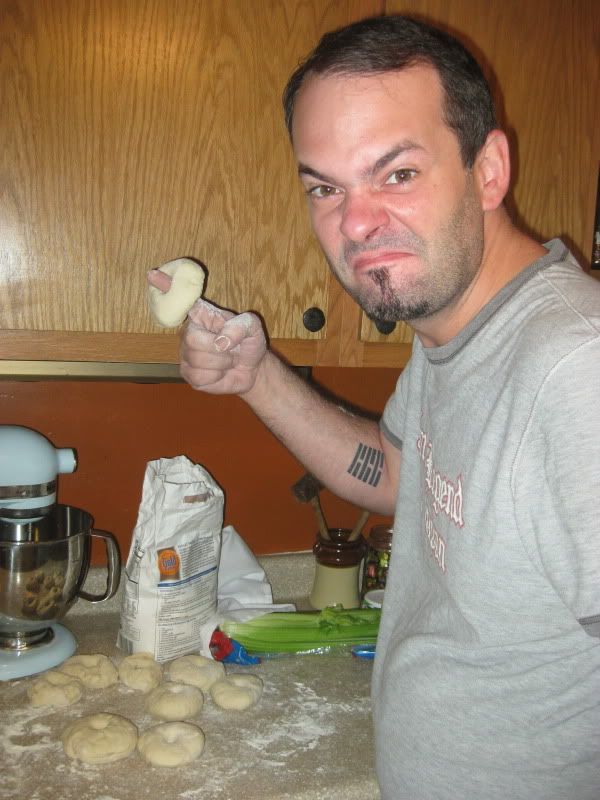 Now, cover your bagels and let them rise again for about 20 minutes. In the meantime, fill up a large, wide pot with a gallon of water and one tablespoon of sugar. Bring the water to a boil, then reduce to simmering. If you are working with an oldish electric range, like I was, your 20 minutes should have elapsed by now and it's time to start boiling the grump right into those bagels.
Drop 3 or 4 bagels into the pot, or however many you can fit without the sides touching, and boil for about 7 minutes, turning over halfway through. Don't worry, they will float, and they will toughen up as they boil, so you don't have the sticky mess you might expect. As you pull them out of the water, put them on a plate lined with towels to absorb the rest of the water, and continue on with your next batch until all the bagels are boiled.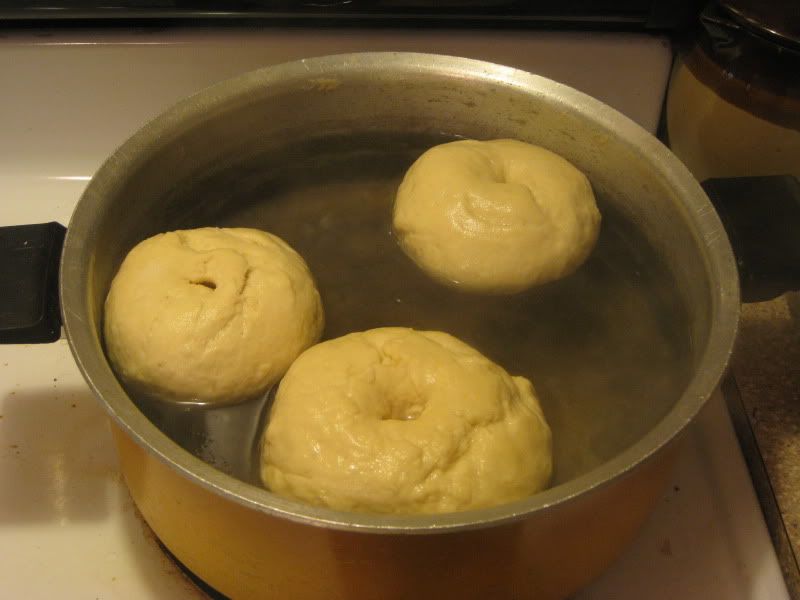 When all your bagels are ready, pop them on a greased baking sheet and into the oven at 375 degrees for 30-40 minutes. But wait! Weren't we making onion bagels? One more step... In a saucepan, melt a few tablespoons of butter (2 or 3) with about half of an onion, very finely minced. Saute until the onions are cooked, but not yet brown. And you'll want to stay in the kitchen for this one, folks... if there's a better scent than onions cooking in butter, I don't want to know about it!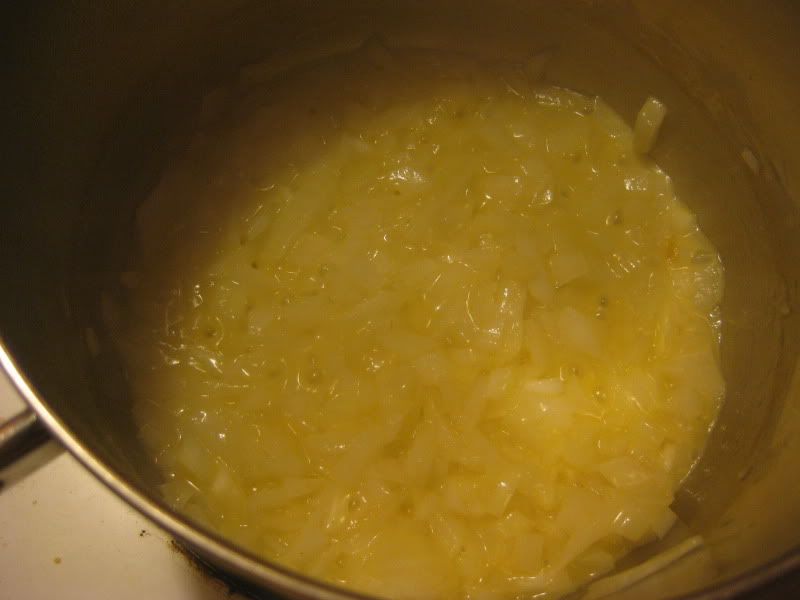 When are they ever going to invent smellovision? This would be the perfect time to use it.
When the bagels have about 15 minutes left in the oven, brush on the butter-onion mixture, then return to the oven. Let your nose be your guide... when you smell onions, your bagels are ready! They won't brown up very much, so be careful not to overcook them. Then dig in! Please, please, I beg you, do not wait for these guys to cool before you eat them. One of the greatest joys in life is a hot bagel fresh from the oven, and that joy exists only in a window about about 10 minutes. You can toast the rest later, grill them, slice them up for sandwiches, I don't care. Just make sure you get at least one hot chewy bagel while it's still steaming!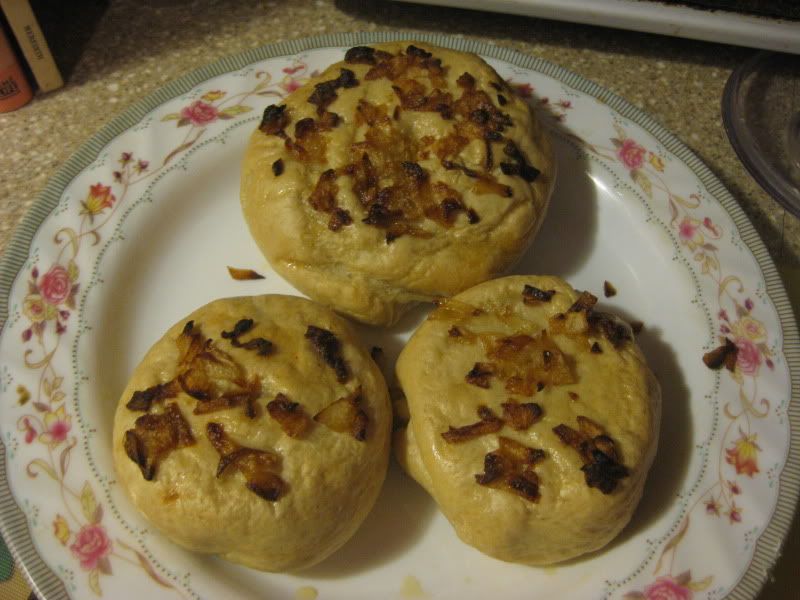 Onion Bagels
(makes 8-12)
4.5 cups flour
2 pkgs instant dry yeast
1.5 cups warm water
3 tbsp salt
1 tbsp sugar
Mix 1.5 cups flour and yeast in a large mixing bowl, or in your stand mixer, dough hook attached. In a separate bowl, mix water with sugar and salt, then add to flour mixture and stir until thoroughly combined. Knead 8-10 minutes or until dough becomes elastic and smooth. Cover and let rest 15 mins.
Cut dough into 8-12 equal portions; form into smooth balls. With a floured finger, poke a hole in the center of each ball and gently stretch to form bagel shapes. Cover and let rest 20 mins.
In a large pot, boil one gallon of water and one tbsp sugar, reduce to simmer. Drop bagels into water, 3 or 4 at a time, for seven minutes each, turning halfway through. Let bagels dry on a plate lined with towels until all bagels have boiled.
Place bagels on a greased baking sheet and place in a 375 degree oven for 30-40 minutes. If making onion bagels, saute 3 tbsp butter with 1/3 cup finely minced onion until onions are soft but not yet browned. Brush onion-butter mixture over bagels at the final 15 minutes of baking time.