When my old pal Leslie called me the other day and asked if I would like some ground venison, I almost fainted. Venison is one of my favorite meats, and pretty much the only reason I condone deer hunting. I could never kill a deer myself, but I'll be first in line to get my grubby little hands on some of that delicious meat! It's lean, it's packed with protein, and the flavor is out of this world. It was actually Leslie's idea to make the inside-out burgers, a recipe I've been making for several years now, so when she came over, it was only natural that we'd capture it and write a blog about it.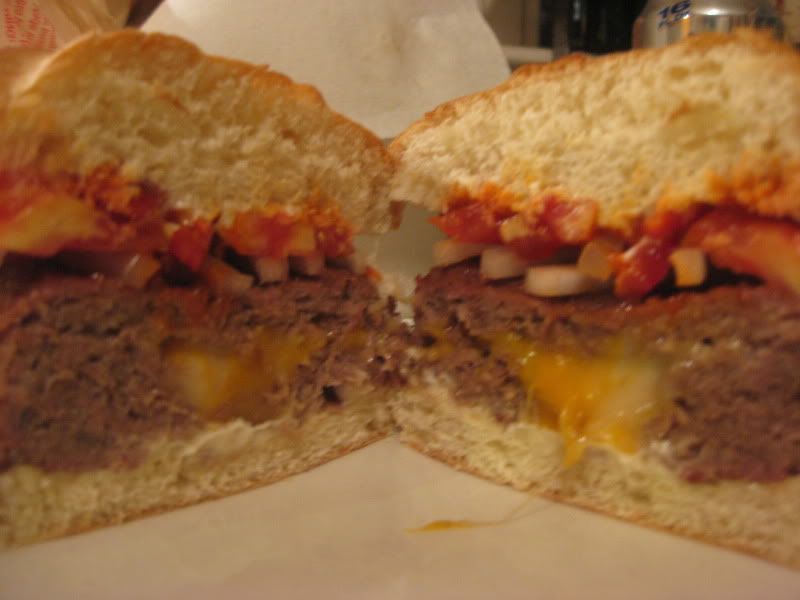 The recipe is super-simple, but always gets a great reaction from guests. When I went on a cross-country road trip with friends last summer, we made these burgers whenever we met up with friends along the road, as a thank-you for sharing their space with us weary travelers. All you do is make a regular old hamburger, but the surprise is that there is cheese... on the
inside
! No need for any condiments, because it's all included (except for a little mayo, if that's your style).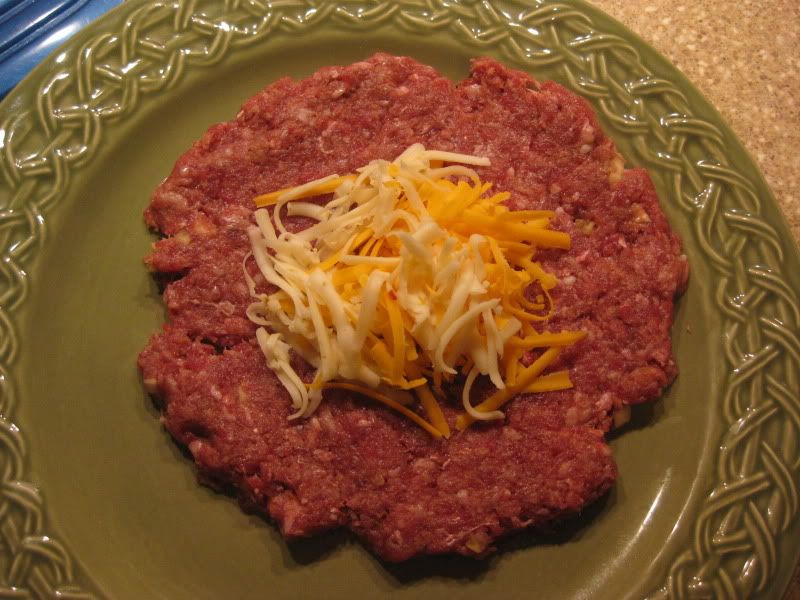 We used a blend of Cheddar and Jack, but any cheese will work. Experiment!
We mixed our venison with some Panko breadcrumbs, Dale's marinade, salt, pepper, and some minced garlic. Normally, I would add an egg per pound of burger meat, but the venison doesn't really need it. Form the patty, a little larger than you usually would, then pound it out really flat, so you have a pretty little meat pancake. Then heap a little shredded cheese in the center. At this point, I usually add a few shakes of Tobasco, but Leslie wasn't in a spicy mood, so we left it out. Then, carefully form the burger around the cheese in the center, bringing up the sides and smoothing out any holes.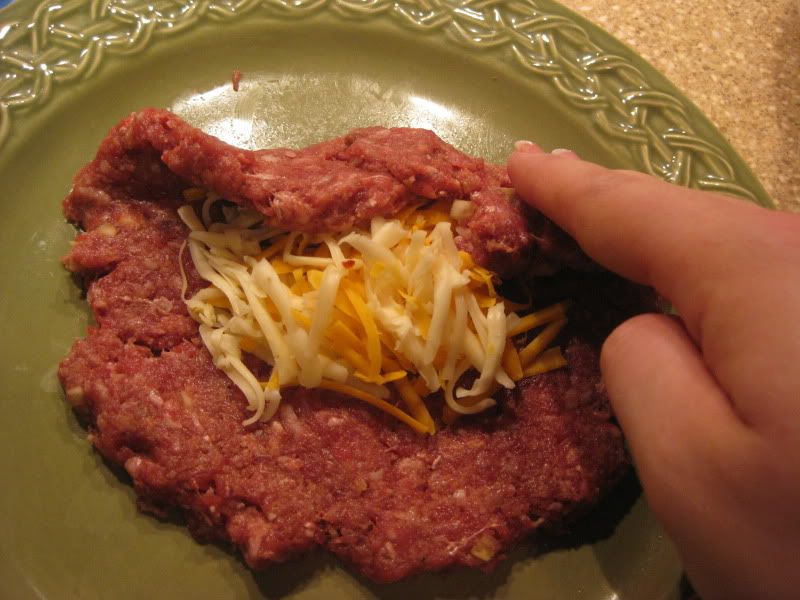 The final step, and the secret to a really flavorful burger, is to marinate the patties in a little more Dale's while the grill is heating up. I understand Dale's isn't available everywhere once you leave the South, and I feel sorry for those poor folks who have to go without. Dale's is truly one of the greatest inventions to ever hit the kitchen... I couldn't make burgers without it!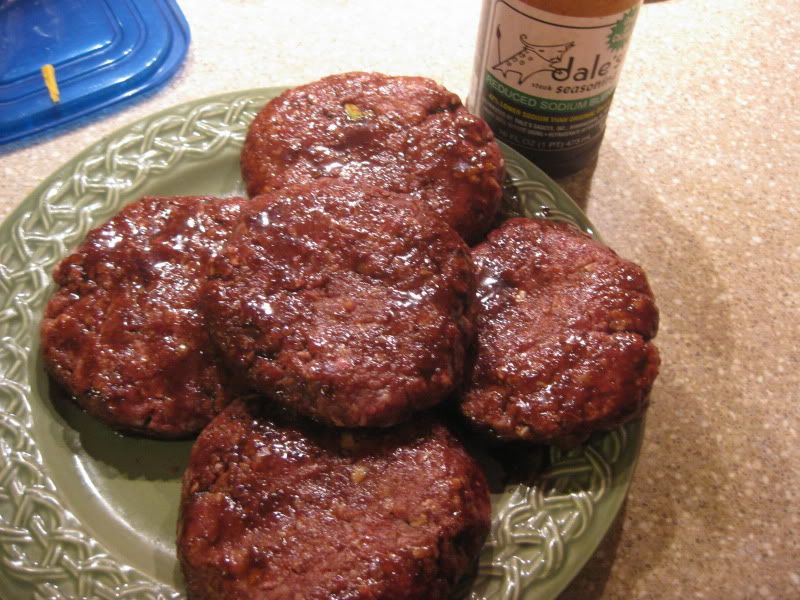 As far as toppings go, this burger doesn't need much. Leslie brought some of her home-grown tomatoes and peppers, so we sliced them up along with some sweet onion for some crunch.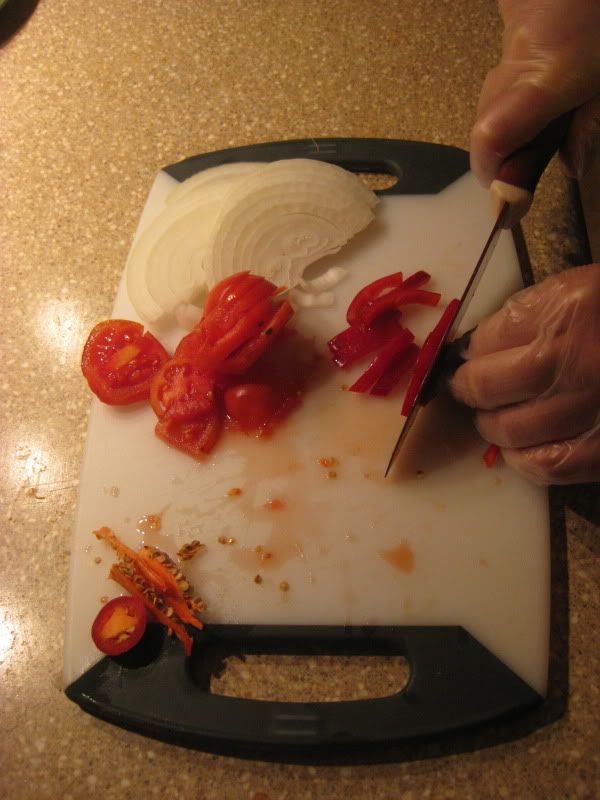 After some truly frightening and painful experiences after not washing my hands properly after cutting peppers, I now wear gloves each and every time.
Scott and I topped ours with a squirt or two of Sriracha (because in our house, Sriracha goes on
everything
. It's a rule.), and Leslie loaded on the mayo (you would not believe the amount of mayo this girl uses. She's got the stuff running in her veins.), and we were all set! Pair it with an ear of freshly grilled Indiana sweet corn and you've got one of the best summer meals you could ever have.