Alton Brown (of
Good Eats
and
Iron Chef America
fame) is my hero. I watch re-runs of his shows nearly every day, and have attempted his recipes too many times to count. So imagine my excitement when I found out he was going to be IN MY CITY to do a book signing promoting
Good Eats 2: The Middle Years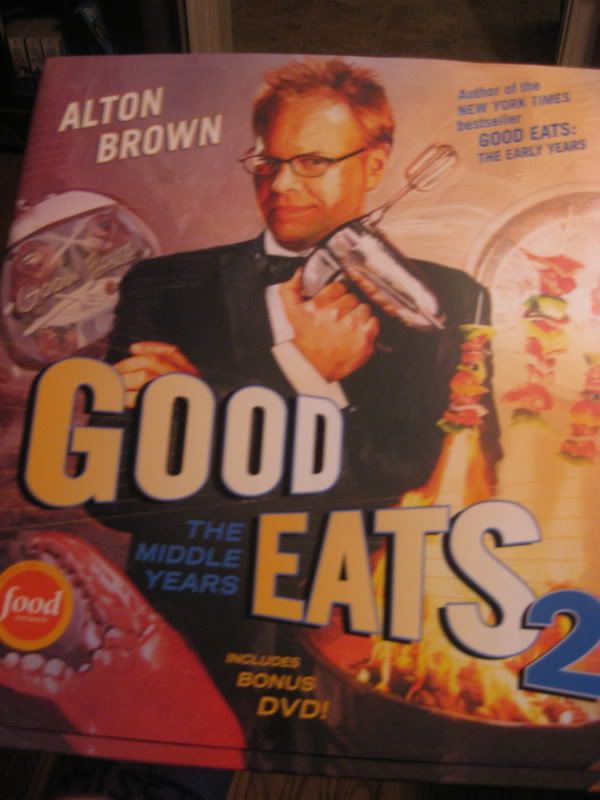 I got to the bookstore an hour early, thinking that would be enough to get a good place in line. What I didn't know was that they had been handing out tickets to hold your place in line since 5pm YESTERDAY. Oh noes. So, an hour early, I got number 187. One hundred and eighty-seven. This calls for drinks. Scott and I headed over to Brio, across the street, for some wine and apps to kill time. We stayed until 7, then headed back to the bookstore, as an associate had warned us that the line would move quickly.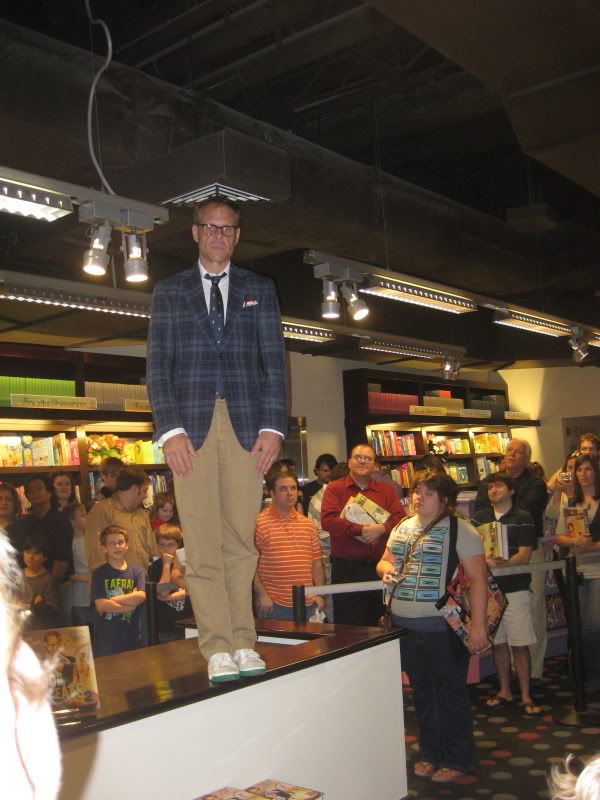 Well, I'll be darned... we walked right into a Q&A session in full swing! Alton, perched upon a counter, was answering questions from the crowd, and it just so happened that on our way up the escalator, we found ourselves smack dab in the front row, with a perfect vantage point. Alton was talking to meeeee! (Yes, I turn into a giddy schoolgirl when even thinking about AB)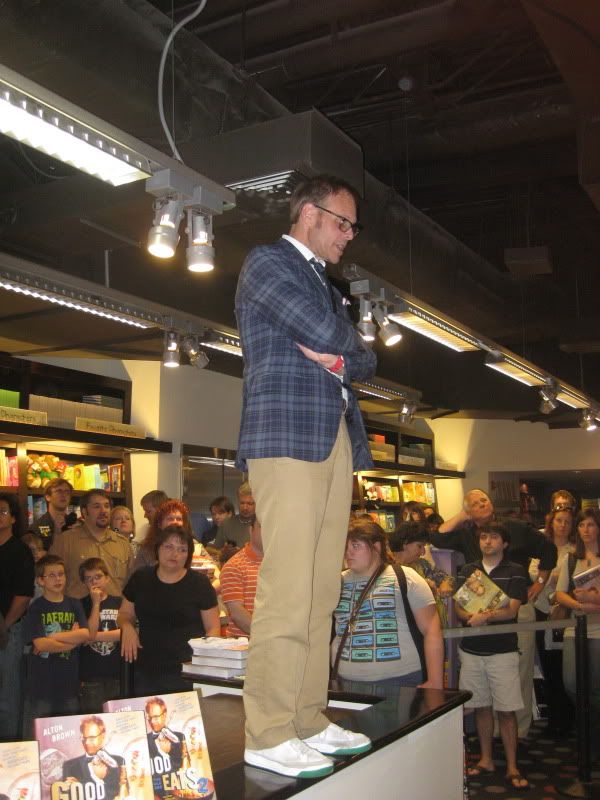 For those who don't know, Alton Brown is from Georgia, so he had much love for us Southern folks and our "unique" culinary style. I caught some footage on my aging camera, but got tired of holding my arm up for too long, so unfortunately, I didn't capture the scene I
really
wanted.
I was trying with all my might to think of a really good question for my hero... there were many questions from little kids that were cute but boring ("What is your favorite vegetable?" came up twice... in a row. It's brussels sprouts, by the way.) and many from the adults were the expected bunch ("Where did you go to school?" - Georgia State. "What is your favorite episode of Good Eats?" - An upcoming episode about oatmeal.) Inspired by my favorite Alton Brown dish, his Pad Thai, I thought I would ask, "What is your favorite ethnic cuisine?", and shot up my hand. Being in the front row, I was the next person called, and as soon as he pointed at me, I somehow blurted out, "What is something that you love to eat, but hate to cook?". And guess what? He said it was the first time anyone had ever asked him that question. Ever?? This guy is interviewed thousands of times a day! (Slight exaggeration) I could not have been more pleased with myself. His answer, by the way? Chicken and dumplings. He said he loves it when his mother in law makes it, but he doesn't like to make it himself -- not because it's hard, he just... doesn't like it. (Totally wish I had filmed that)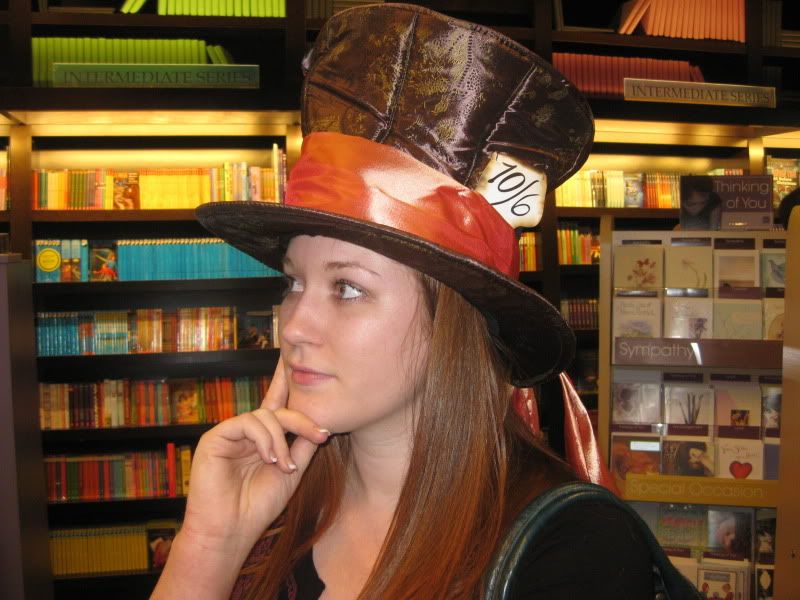 Waiting in line
Anyway, we waited for another hour or so before we were finally called to get in line. I don't know how many numbers were handed out, but 187 was pretty far back. When we finally got near the front, a bookstore employee handed us a post-it note where we could write down exactly what we wanted our inscription to say. I picked "To Kelly and Scott", simple enough. Next, we winded around to his assistant, who also plays one of the ever-present lawyers on Good Eats. He checked to make sure our book was opened to the right place and sent us over to another bookstore employee, who took my camera for our photo op.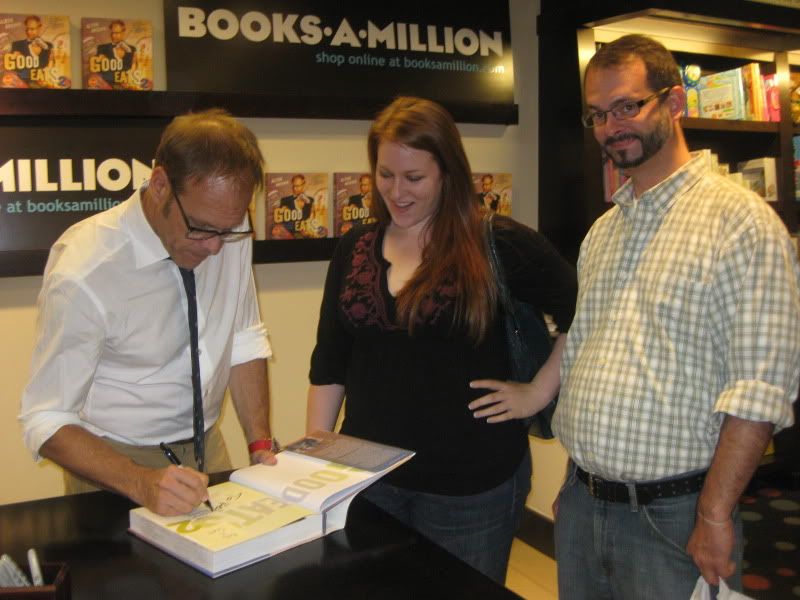 "Hey, I want some tequila, too!"
When we got to Alton, an employee was asking him if he wanted any more water, or a coffee or anything, and Alton said something about wishing they had some tequila. When he called us up, I said, "Hey, if there's tequila, we're sticking around!" (Okay, not exactly the wittiest thing to say to my hero, but good enough)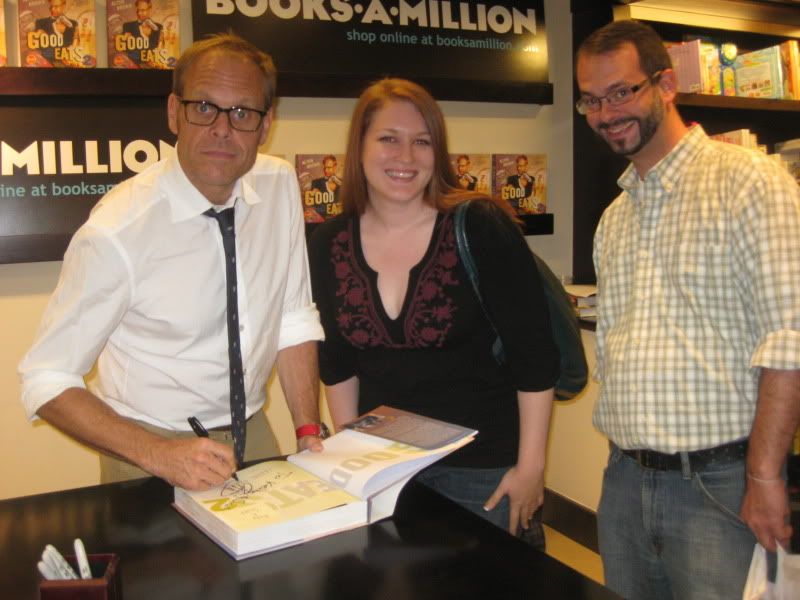 Tequila!
He signed our book, took a couple of pictures, shook our hands, and we were gone. All in all, we were at the bookstore for three hours, and it was worth every minute! Keep your eyes peeled for the next season of Good Eats!